Discover more from SBJournal
"I have a very scary feeling Susie Bright is not making any of this up. "Guns, drugs, threesomes, socialist factionalism, a stabbing . . . all before she got her G.E.D.?" — Alison Bechdel
Over 1,000 subscribers
Night of 1,000 Canapés
I've served canapés in a little French maid's outfit or a penguin-style tux, a hundred times — thanks to my years working in the Local 2 Banquet Department. I was a "fetching" young thing.
I've never made canapés. How hard could they be? What Herculean efforts required?
Canapés are the quintessential "cocktail party" food. They are NOT for supper, they are for endless snacking. Canapés are baby sandwiches, almost a joke— but when made well, they are each a mouthful of bliss.
Canapés are not appetizers, they are finger food— happily free of all cutlery. They fit in your palm, or a square napkin, a small plate.
Your other hand is hopefully holding a glass— in my recent party, I made an icy bowl of Vieux Carré punch, and a small cauldron of Champurrado (Mexican thick and spicy hot chocolate, I'll tell you more at Christmas).
PREPARE THE LAUNCH
Canapé-making is a military operation. You need one day before the party to prepare all your "soldiers" — the diced herbs, finely mandoleined veggies, shredded bits of meat and fish, creamed champignons, brown buttered squash leaves.
Then the next day, you "assemble" the tiny sandwiches.
Every canapé has a base — like a toast or cracker. On top of that comes a cold or warm teensy entrée, the meat, the cheese, the star vegetable. Finally, a garnish. You might have 5 or 6 dollhouse-size pieces on each base, or you might have an exquisite two. It has to be perfectly aligned holy trinity of taste, colors, textures. People "eat with their eyes" at canapé banquets.
This is why cheese on a cracker is an emergency snack, NOT a canapé. You must think like Peggy Olsen, who derided any cocktail that wasn't at least three ingredients.
My mother's 1956 edition of Betty Crocker's Cookbook is pure cornball copywriting. But Betty is excellent on the basic tenets— as in how you brown the toast beds on only one side. See details in image below.
Betty calls canapés "midget open-faced sandwiches." Ha!
The problem with Betty Crocker's examples is that you can't plan SIX time-consuming midgets. You have to have deceptively easy recipes, that assemble quickly, and just a couple labor-intensive ones. The guests should be wow'ed by them all, unable to tell how you did your magic!

Below is the simplest recipe I fixed, where you build with an original Triscuit or pretzel crisp base, and then improvise from a complementary set of toppings. All of them "go" with each other, so you can't go wrong. Set up a long table with all the ingredients on little plates or bowls in front of you. Pick a serving plate, and then start building your army!
Cheese, Charcuterie, Veggie & Garnish Canapés
(1) Base
Triscuit Originals

Pretzel Crisps
(1) Cheeses
Mozzarella slices

Pre-cut Hard cheese slices

Boursin, cream cheese, or soft cheese spread, or olive butter
(1) Meat or Pepper or Egg
Prosciutto

Hatch Chile slice

Hard-boiled egg slice
(1 or 2) Veggie garnish
Cucumber

Tomato slice

Endive

Garlic Slice

Shaved Shallots

Green Onions
(1 or 2 or 3) Fine Garnish
Lemon Zest

Dried Seaweed, or better yet, gim — in Trader Joe's near the chips

Mint fresh

Tarragon fresh

Thyme fresh

Carrot ribbon

Chives fresh

Capers
Spice Garnish:
Salt

Pepper

Paprika

Bagel Seed Topping

Poppy Seeds
Violette assembled all the canapés you see in the above plate; gorgeous, eh? She has "the touch."
---
SERVING WISDOM
Serving canapés without servants or family slaves needs a strategy. You never serve all the canapés at once. You hide some. I hid platters in my cold oven, and a bedroom upstairs.

Have fun with your plating. Anything could be a serving platter, it just needs to look good as the food background. Porcelain, mirrors, clay, colored plates. Also go for different LEVELS, so some trays are "high" and others flat. I used cake platters and high bowls, anything to get some lift.

You need a couple "static" bowls of non-canapés, for visual and edible relief. Easy ideas: the bowl of salted peanuts, basket of colored chips, a big chunk of hard cheese on a wooden platter with one knife to let the guests carve their own chunk. Also: pickles.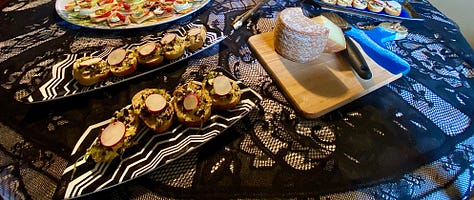 ---
NUMBERS
Yes, the math was the hardest part.
On the face of it, a hungry person such as myself thinks they can eat everything on the table.
I read so many formulas for "how many canapés per person, per hour." A headache! My friends are not dieting socialites.
In the end, I decided each person might eat 6-8 canapés, plus filling up on the "static" items and drink. I had about 30 guests so that equals 240 items.
To be honest, I never did end up counting. We filled the table, it looked great, and they ate every last thing! We gathered from 4-8ish, for the golden hour and sunset. It was beautiful and our friends Andy and Star brought boxes and boxes of marigold blooms and heads from their farm, which Jon made a path with, all over the garden and our ancestors' special spots.
---
WARM CANAPÉS
Notice I say "warm," not hot. Room temperature is what you're going for, not sizzle.
My friends Violette, Alexandre, and Simon helped with everything. Violette introduced me to Chef Ricardo, who is the toast of Quebec foodie videos.
I read so many recipes and canapé marching-orders online. To my surprise, the most sane-to-prepare yet chic, were from Martha Stewart.
Jon set up all the work and serving areas. He's done more canapés professionally than all of us put together. With this crowd and the slicing disc on my food processor, all things were possible.
If I did it solo, I would just do the "cracker" improv recipe I outlined above, and buy the pre-cut cheeses and meats/fish that make prep so quick.
Butternut squash cut out with cookie cutters, then sautéed in brown butter. Serve on top of crème fraiche and pumpernickel toast. (Hard part: finding small enough cookie cutters these days— and make sure your cuts are truly ⅛ inch!)
To the left, you see Violette's dark toast beds with Brie, endive, dill, and crushed almonds.
---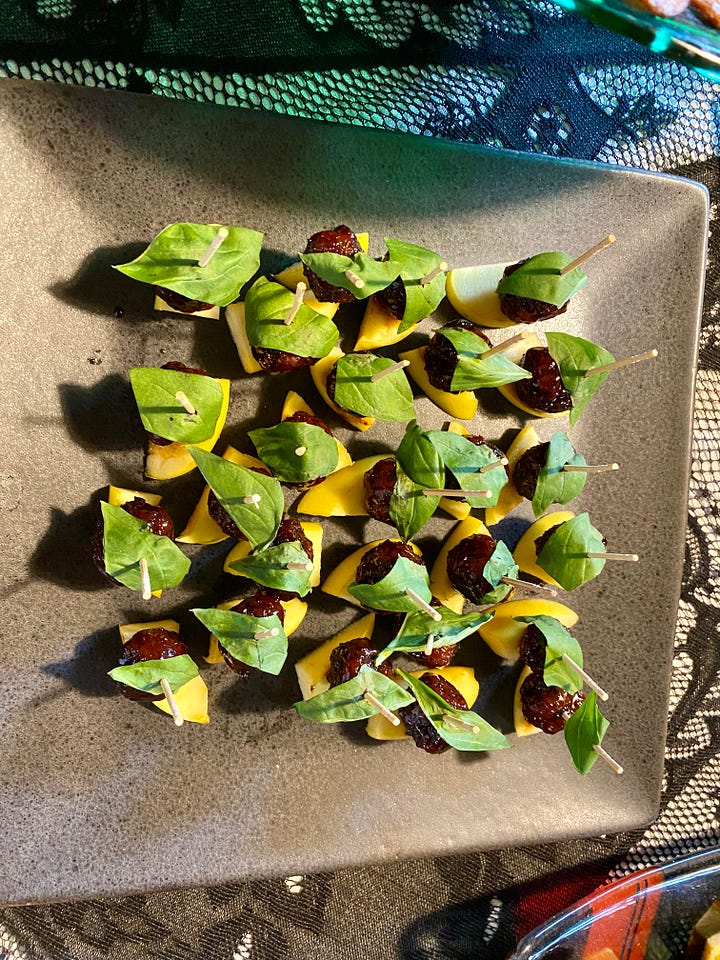 Clockwise, from top left:
---
DESSERT
I don't have pics of my dessert, my only original invention! I have been inspired all year by Eric Kim, who stunned everyone with his Gochujang Caramel Cookie recipe. He knew heat and sweet and gooey could be heaven.
I bought a package of Oreo Thins, which are a very classy ultra-slim version of Oreos. Get (2) family packs. I smeared the top of each Oreo with Gochujang sauce (find it everywhere, including Trader Joe's) and then put a sliced strawberry on top.
I hope you visualize how magnificent it was!
---
SBJournal is a hungry-bear-supported publication. To receive new thin Oreos and support my diet, consider becoming a free or paid subscriber.