Discover more from SBJournal
"I have a very scary feeling Susie Bright is not making any of this up. "Guns, drugs, threesomes, socialist factionalism, a stabbing . . . all before she got her G.E.D.?" — Alison Bechdel
Over 1,000 subscribers
Taffy Pull, Ian Fleming Fudge, and Penuche!
How Betty Crocker and a Teenage Special Can Light Up Your Sugar High
Are you ready to pull taffy this Halloween? You want candy, you're gonna get some!
Taffy pulling is a group activity. Perhaps you can draw in some of your trick or treaters. . .
Everyone involved has to pull, pull, and pull— until you collapse— that's when you know it's ready.
The taffy link I've posted is from the Exploratorium in San Francisco, a "kids" science museum that adults go crazy over. It's actually called "a museum of art, science, and human perception." Yes!
The first time I tried it, I got help from a Taffy Nerd:
—Tip from Dennis the Taffyman:
Taffy Pulls are fun, but the recipe at the Exploratorium in San Francisco has too high a tempurature. I do taffy pulls professionally and own a taffy store, and a better tempurature is to cook to 240 degrees.
As you go higher, the candy becomes more difficult to pull. It makes the pulling much easier and much more fun!
The reason I recommend 240 degrees is that was the tempurature the candy maker at Knott's Berry Farm gave us back in 1970, and it's been marked on every candy thermometer we've ever used.
You might think of throwing a candy-making cabal. I had the grand idea that we should make "chocolate razor blades," as a spoof on trick-or-treat hysteria. But I could not figure out how to make the "blades" thin enough!
I like to use some old-school candy recipes that I used to make with my mom when I was a kid— see below. One of my fondest memories of my mom is from when we made candy together, and then ate it all in one sitting watching "Get Smart" on our black-and-white Zenith.
The first classic is the fudge recipe that we found on the back page of Ian Fleming's book, Chitty Chitty Bang Bang. Yes, it's James Bond fudge!  I've translated all the British measurements for you:


Monsier Bon-Bon's Secret Fooj
1 lb. granulated sugar (2 c.)
1 small can evaporated milk
1/4 lb. finest butter (8 T.)
1 T. water
1 T. corn syrup
4 T. unsweetened chocolate

Put all the ingrediets into a saucepan. Melt slowly on a low gas until the mixture thickens slightly and is absolutely smooth. Turn up gas and boil very quickly until it forms into a soft ball when a sample is dropped into cold water. Remove from heat and beat well with wooden spoon. Pour the whole mixture into a flat greased pan, mark in squares, and leave to set. When cold, DEVOUR!
It's so interesting that Fleming was a foodie. He is also the creator of the Vesper cocktail recipe, which I think is the best martini ever shaken.
---
The next two recipes are from one of my mom's old stand-by's— Betty Crocker's Picture Cookbook.
This volume was one of the first cookbooks that urged women to use processed foods. The hell that was unleashed, right?
Every woman in the cookbook is referred to by her husband's name, like "Mrs. Joe White." There are special celebration meals like "Jimmy Durante's Choice" and "Famous Violinist Recommends Two Vegetable Dinners." (Yehudi Menuhin, if you must know).
Betty Crocker's candy recipes are real thing, however. You can't fake homemade candy. They're described in the "Teenage Special" section of the book, which begins this way: 
Combine in a large home kitchen or amusement room:
special friends

favorite records

conversation

candy-making
Betty C. knew how to live!
---
Penuche

"Oh, how I love it," exclaims Mrs. J. A. O'Gordon of St. Louis Park, Minnesota, as she passes Penuche in her antique silver bonbon dish.

Combine in saucepan:
2 c. brown sugar, packed

1 c. sugar

1 c. cream (20%)

2 T. light corn syrup

1/4 t. salt

Stir over medium heat to dissolve sugar.

Cook to 234 degrees, or until a little bit dropped in cold water forms a soft ball. Stir occasionally. Remove from heat.

Add:

2 T. butter

Let stand without stiffing until bottom of pan is lukewarm (120 degrees) .

Add:

1 t. vanilla

Beat until creamy.

Mix in:

1/2 c. chopped nuts

Pour into greased 8" or 9" square pan. Cut into squares.

Amount: 36 inch-and-a-half pieces.

---
Divinity

Jan Korsland of Betty Crocker's secret team says: "This never-fail Divinity was often made Sunday afternoons in our farm house in Iowa. Black walnuts gathered from our yard made it extra delicious."

Place in saucepan over low heat:
4 c. sugar

1 c. light corn syrup

3/4 c. water

Stir until sugar is dissolved, then cook without stirring to 255 degrees, a hard ball.

Remove from heat and pour, beating constantly, in a fine stream, into:

3 egg whites, stiffly beaten

Contine beating until mixture holds its shape and loses its gloss.

Add:

1 t. vanilla

1 c. broken walnuts

Drop quickly from the tip of spoon onto waxed paper in individual peaks... or spread in a buttered pan and cut into one inch squares when firm.
---
Finally, more tips from my candy-crazed friend Tina Marie:
Never trust a recipe that doesn't include temperatures, and always calibrate your thermometer before you start.

I've pulled taffy by hand, and it is exhausting to do alone.

I'm making candy canes for Christmas presents this year, as they are nothing more than a firm pulled-taffy! I've seen people on TV, who put hooks in their ceilings to fling the taffy over. I'm going to try a variation on that: An over-the-door coat hook. People say it makes the pulling less exhausting because gravity helps you . . . ask me if it works after Christmas, if I can still type.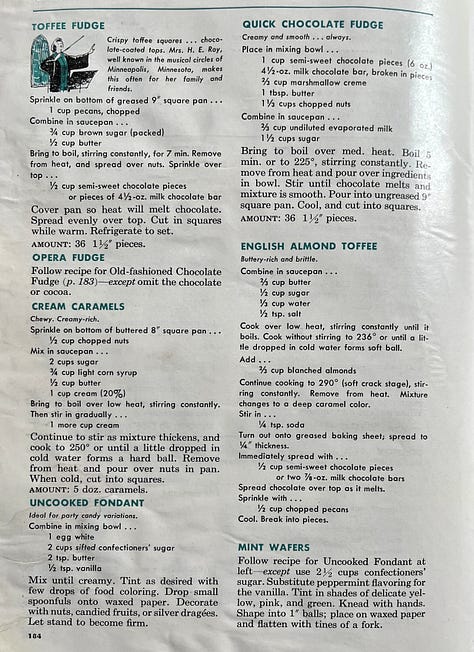 ---
SBJournal is a candy-supported publication. To receive new treats and support my divinity, consider becoming a free or paid subscriber.